Face Painting
Central Illinois Hire A Face Painting Artist
Add Face Painting to your party for a fun activity! It is $110 for the first hour then $90 an hour for each additional hour. The number of hours needed will be based on the size of your party but a minimum of 1 1/2 to 2 hours is usually recommended.
It is recommended to schedule the face painting toward the end of the party to keep the "makeup meltdown" to a minimum when renting a bounce house.

Whether your child wants a full face paint, or cheek art, or just prefers a design painted on their arm, we aim to please!

All paints are top quality face paints made specifically for face painting. Beware of those amateurs that think that acrylic craft paints are suitable for use on your face for face painting! There is a big difference between accidentally getting acrylics on your hands while painting, and washing it off soon, versus putting it on a delicate area like your face (or your young child's face) and leaving it on for a few hours! Some people are also very allergic to acrylics. And our face paints are also safe for use with bounce inflatables!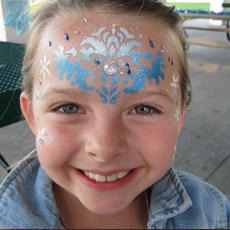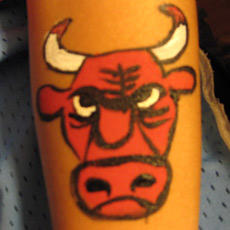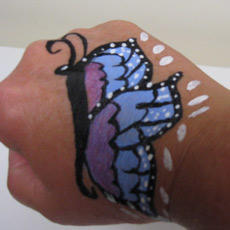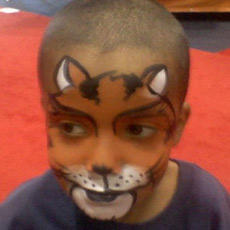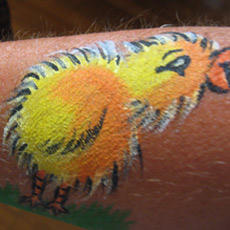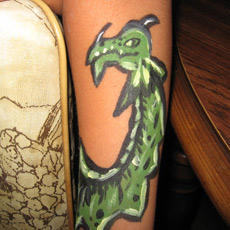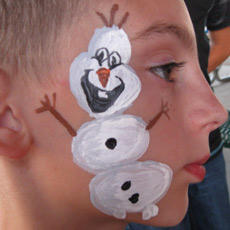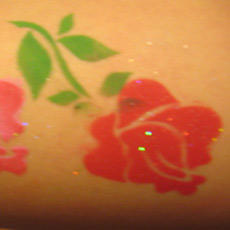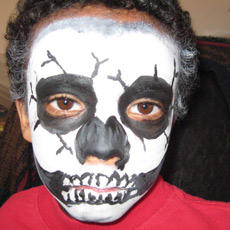 The Best Way to Remove Face Paint
How to remove face paint from skin
1. Do NOT start by using water. The water will only wash out the top layers of the paint, but won't break up the pigment and may pack the pores of the skin more with paint. So, start by using soap.
2. Use liquid or bar soap with a few drops of water (baby soap is generally safe around the eye area).
3. Massage painted area with fingertips until a muddy consistency is formed.
4. Use a wet wipe, makeup remover wipes or moisten a paper towel to wipe away the paint.
5. Rinse face with warm water. Repeat steps #2 — #5, if necessary.
6. Do NOT use scrubs or alcohol! Just gently rub the skin and remember, that sometimes it may take a couple times to remove the paint completely.
7. To remove tough areas, use any gentle oil without a strong fragrance. I personally prefer coconut or olive oil.
Give us a call at 217-498-8774 to schedule today!